Forwarding Services
Royal Randers is providing full cycle services for all your logistics needs.
Our experienced team is on hand to arrange movement of your cargo anywhere is the world. We have competitive rates and ensure that we will provide the best solutions possible for your goods. From a simple package, multi-container loads, to 60-tons of bulk cargo – we can do it all.
Freight Forwarding Services
Please Contact Us And We Will Be Happy To Provide A Quote For Services.
We Offer:
Freight Movements:
Royal Randers is here to help you determine the best and most economical way to ship your goods.
Below please find a simple list for
Air
Ocean
Ground
Specialty transportation solutions
If you have more questions on what type of freight movement would best suit your business, please contact us. We are happy to answer all of your questions.
Types Of Transportation
Air Freight
Is best suited for:
Packages under 150 kg
Time sensitive shipments of any size
Perishable items
Shipments that require multiple destinations
Door to door deliveries
Ocean Freight
Is best suited for:
Bulk Cargo
Large or over-sized shipments
Port destination cities
Vehicle Shipping
Delayed arrival times
20′ and 40′ FCL "Full Container Load" Container Shipments
LCL "Less than Container Load" Shipments
Truck Freight
Is best suited for:
Any size shipment in-land
Large volume shipments
Vehicle Shipping
Door to door pick-ups and deliveries (both local and cross-country)
Specialty Shipping
Is best suited for:
Unique shipments such as concert tours/stage setups, traveling exhibits
Over-sized shipments
Multiple destination requirements
Unique load in/out needed (eg. crane, hiab, flatdeck)
Live cargo/load
About Freight Forwarding
The Principles of Freight Forwarding
The principles of freight forwarding are premised on the efficient and cost-effective transfer of goods that are maintained in good condition throughout their travels. To accomplish this, freight forwarders become experts in managing the logistics necessary to ensure that goods arrive on time. Successful trade and shipping in expanding globalized markets means having the right tools at your disposal.
Negotiating tariffs, customs regulations and being fluent in the requirements of shipping by land, sea, rail, and air, freight forwarders manage the risks and benefits of shipping both nationally and internationally using the latest advances in information technology.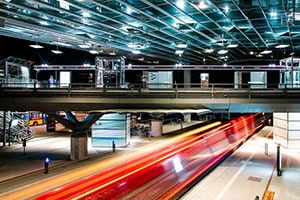 What Is Freight Forwarding?
Freight forwarding is the coordination and shipment of goods from one place to another via a single or multiple carriers via air, marine, rail or highway.

Successfully Navigating the World of Freight Forwarding
Having the knowledge and skills to navigate the regulations of freight forwarding is integral to ensuring the successful shipment and delivery of goods. Even as the knowledge of customs regulations is an important component, the successful transfer of goods through freight forwarding relies on its service industry. As such, freight forwarding depends on having the right people whose commitment to excellence and customer satisfaction ensures that goods reach their final destination in a timely and efficient manner.
Many customs brokerage firms recognize this and ensure that their most qualified personnel are available to tailor and develop a comfortable shipping experience for their clients. Negotiating the logistics and regulations of freight forwarding is a complex task; the proper import and export of goods depends on choosing a customs brokerage firm and a freight forwarder you can trust.  
Contact Us
Technical Department:
All correspondance
for Fleet Manager, Superintendant,
or technical matters
should be addressed to:
tech@royalranders.dk
Main Contact
Address
Klostermosevej 140
DK-3000 Elsinore
Denmark